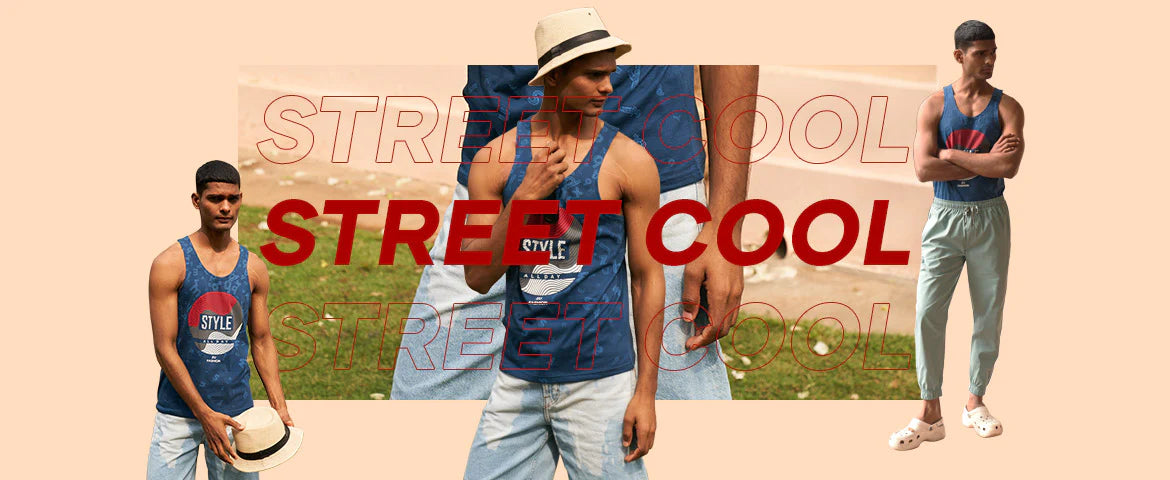 Sleeveless Tshirts
Sleeveless T-Shirts For Men - Your Ultimate Companion From Gym To Casual Hangouts!
When it comes to men's clothing, a plethora of options are available, among which sleeveless T-shirts stand out. The Sleeveless T-shirt for men is such a versatile piece that can be worn for casual hangouts, beach outings, and even intense workout sessions. Referred to as vests, these sleeveless T-shirts offer numerous styling choices for men. They can be effortlessly paired with a simple shirt or jacket. Furthermore, the sleeveless T-shirts can effortlessly double as a sando when layered under hoodies or sweatshirts, providing optimal comfort during chilly weather.
So, if you're on the hunt for comfortable gym sleeveless T-shirts or stylish graphic vests for men online, your search ends right here! Zu presents an incredible collection of sleeveless T-shirts for men. So why wait? Let's explore the collection now!
Buy Sleeveless T Shirts For Men Online From Zu
Upgrade your wardrobe with our premium collection of sleeveless T shirts for men! Whether you're hitting the gym or aiming for a cool and fashionable look, our sleeveless T shirt for gym or stylish vest for men are the ideal selection. The standout feature of our sleeveless T shirts lies in their remarkable blend of durability, style, and comfort. Moreover, these T-shirts come at an affordable price point. Discover the versatility and charm of our collection of sleeveless T shirts for men below!
Gym Sleeveless T Shirts

For your intense workout sessions, choose our specialized gym sando for men! Engineered with moisture-wicking technology, these t-shirts keep you dry and comfortable, allowing you to focus on your fitness goals. The sleeveless design provides unrestricted movement, making it an ideal choice for all your gym activities.

Stylish Vest For Men

Looking for sleeveless T shirts for casual outings? Try our Rib neck printed vest for men! Crafted from 100% cotton, this vest boasts a soft and breathable fabric, ensuring comfort throughout the day. The inclusion of graphic prints adds a touch of coolness and style to your overall ensemble.
How To Take Care Of Your Cotton Sleeveless T Shirts?
When you're sporting a cotton gym sleeveless T shirt or flaunting a vest during casual outings, maintaining its quality requires a little care. The sweat and grime that accompany your activities can impact the longevity of your clothing. To ensure your cotton sleeveless T shirts remain in top-notch condition, here are some essential care tips:
Prompt Cleaning

After every wear, especially if you've engaged in physical activities, give your cotton gym sleeveless T shirt a quick rinse. This helps prevent sweat and odor from settling into the fabric.

Separate for Washing

Separate your cotton sleeveless T shirts from heavily soiled items when tossing them into the laundry. This prevents dirt and stains from transferring onto your delicate fabrics.

Choose Gentle Detergents:

Opt for mild, color-safe detergents when washing your cotton sleeveless T-shirts. Harsh chemicals can weaken the fibers and dull the fabric's color over time.

Cold Water Wash

Use cold water for washing your cotton sleeveless T-shirts. Hot water can cause the fabric to shrink and lose its shape, affecting the fit.

Turn Inside Out

Before tossing your cotton sleeveless T-shirt into the washing machine, turn it inside out. This prevents the graphic prints or any embellishments from rubbing against other clothes.

Skip the Dryer

While cotton can generally withstand low-heat drying, air drying is the gentler option. Hang your sleeveless T-shirt on a clothesline or a drying rack to preserve its shape and color.

Fold, Don't Hang

Once your cotton sleeveless T-shirt is dry and wrinkle-free, fold it neatly to store. Hanging it can stretch out the fabric and result in distorted shoulder lines.
Why Choose Zu For Purchasing Sleeveless T Shirts For Men Online?
Zu Clothing takes pride in crafting a wide variety of Sleeveless T shirts for men that prioritize both comfort and quality. Our dedication to using premium fabrics ensures a soft and breathable feel against your skin. Whether you're lifting weights, going for a run, or simply lounging, our sando for men offers the utmost comfort throughout the day. Moreover, our sleeveless gym T shirt and casual vest for men features contemporary designs that effortlessly elevate your fashion game.
So, don't wait any longer! Buy now! And add our latest and trendy sleeveless T shirts in your wardrobe at an affordable price!
In addition to sleeveless T-shirts, Zu also offers an impressive range of full-sleeve T-shirts, co-ord sets for men, activewear, and drop shoulder T-shirts. Make sure you seize the opportunity to explore our diverse collection – a chance you wouldn't want to overlook!
Frequently Asked Questions On Sleeveless T Shirt For Men
What is a sleeveless T-shirt called?

Ans: A sleeveless T-shirt is commonly referred to as a "tank top" or "muscle shirt.

Are sleeveless shirts in style for men?

Ans: Yes, sleeveless shirts are currently in style for men. They have become a popular choice for casual and athletic wear, offering a versatile and trendy option for various occasions.

Is it professional to wear a sleeveless shirt?

Ans: The appropriateness of wearing a sleeveless shirt in a professional setting depends on the specific workplace dress code and industry norms. In some casual work environments or creative industries, sleeveless shirts might be acceptable. However, in more formal or traditional workplaces, it's generally best to opt for sleeved attire to maintain a polished and professional appearance.