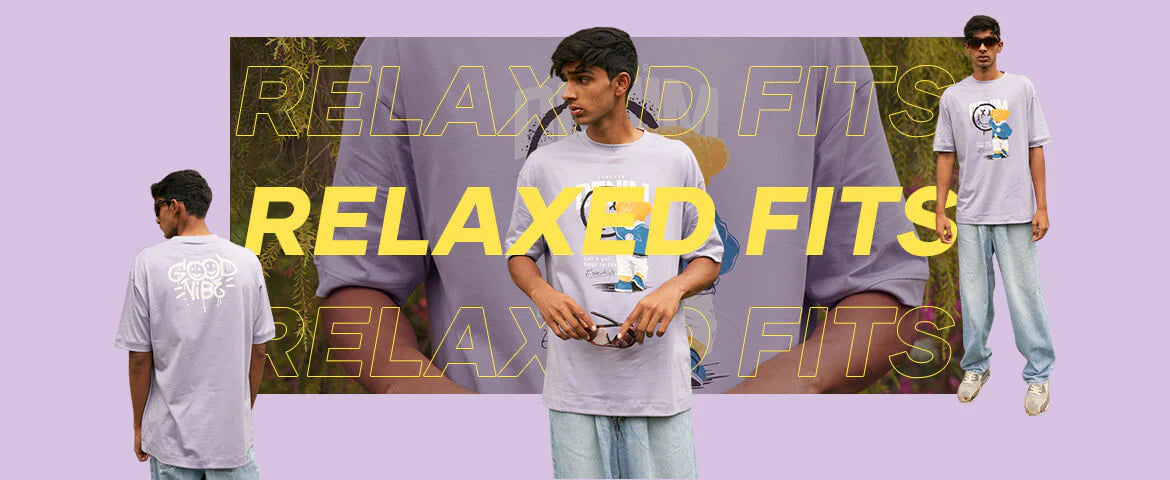 Drop Shoulder T-shirts
Embrace Relaxed Vibe With Oversized Drop Shoulder T-Shirts For Men
Fashion trends are evolving day by day, and men's clothing is no exception to this ever-changing landscape. As a part of the ever-evolving men's fashion scene, drop shoulder T-shirts or men's oversized T-shirts have made a stylish entrance. The oversized drop shoulder T-shirt for men is the perfect embodiment of comfort meeting contemporary style. With their relaxed fit and distinctive drop-shoulder design, these shirts exude an effortlessly cool vibe that resonates with modern trends. Whether you're looking for a laid-back ensemble for a casual outing or aiming to make a statement with a fashion-forward look, these oversized drop-shoulder T-shirts have got you covered.
Are you looking for oversized T-shirts for men in India? Look no further than the exclusive collection of Zu!
Shop Stylish & Trendy Oversized Drop Shoulder T Shirt For Men From Zu
Zu stands as one of India's premier men's clothing brands, renowned for offering a diverse array of attire, spanning from sleeveless t-shirts to sweatshirts, hoodies, activewear, and beyond.
Embracing contemporary fashion trends is ingrained in Zu's ethos, exemplified by our assortment of men's oversized t-shirts. Crafted from 100% comfortable cotton fabric, these oversized drop shoulder T shirts boast a relaxed fit, an oversized design, and eye-catching graphic prints – a fusion of style and comfort that we refuse to compromise on.
What's more, our men's drop shoulder T shirts are thoughtfully priced, ensuring accessibility without sacrificing quality.
When you're in search of top-notch oversized t-shirt mens India, look no further than Zu – your ultimate destination. Waste no time – Get yours today!
Where Can You Wear Oversized Drop Shoulder T Shirts?
You can wear Zu's oversized mens T shirt at a variety of occasions
Casual Outings

Weekend Getaways

Music And Art Festival

Beach Escape

Casual Work Environment

Outdoor Adventures

Gaming And Movie Nights
How To Style Oversized Drop Shoulder T Shirts?
Styling oversized drop shoulder t-shirts opens up a world of creative fashion possibilities. Here are some trendy ways to rock these tees and make a statement:
Effortlessly Casual

For an easygoing look, pair your oversized tee with well-fitted jeans and sneakers. Roll up the sleeves slightly for an added touch of style.

Layered Chic

Combine your tee with a denim or bomber jacket for a layered effect. This adds depth to your outfit and works great for transitional weather.

Street Style Swagger

Team your oversized tee with joggers or sweatpants for an urban streetwear vibe. Complete the look with high-top sneakers and a cap.

Smart Casual Fusion

Create a blend of smart and casual by wearing your tee with tailored trousers and minimalist sneakers. The contrast creates a fashion-forward statement.

Athleisure Edge

Pair your tee with athletic shorts or joggers for a comfortable athleisure look. Ideal for those days when you want style and comfort in one.
So, mix and match these ideas to suit your personal taste, and let your creativity shine through your fashion choices.
Frequently Asked Questions On Oversized Drop Shoulder T Shirts
What makes the oversized drop shoulder t-shirts unique?

The oversized drop shoulder t-shirts offer a relaxed and fashionable fit, emphasizing comfort and style simultaneously.

Are there different sizes available in the mens oversized t-shirts?

Yes, our mens oversized t-shirts come in various sizes to cater to a wide range of body types and preferences.

Can I find mens oversized t-shirts suitable for various occasions?

Absolutely! Our collection features mens oversized t-shirts that can effortlessly transition from casual outings to more trendy and edgy looks.

Is the oversized t-shirt mens style suitable for all body shapes?

Yes, the oversized t-shirt mens style is designed to suit different body shapes, providing a comfortable and fashionable option for everyone.

Are there any care instructions for the oversized t-shirt mens collection?

We recommend following the care instructions on the label to ensure the longevity and quality of your mens oversized t-shirt.

Can I purchase the drop shoulder t-shirts online?

Yes, you can conveniently shop our drop shoulder t-shirt collection for men online through our official Zu Clothing website.