Must-Have Wardrobe Essentials for Men: A Complete Guide
In the ever-evolving world of fashion, men too must embrace the concept of a capsule wardrobe. A capsule wardrobe for men is a curated collection of versatile and timeless clothing items that make dressing effortlessly stylish. This approach not only simplifies the morning routine but also ensures that you always have the right outfit for any occasion. In this blog, we'll explore why men should invest in essential clothing items for every season and provide a comprehensive list of wardrobe essentials for men. Additionally, we'll highlight how Zu Clothing offers a diverse range of inclusive size-wear for men, making it easier for everyone to build their ideal wardrobe.
Why Men Should Have Essential Clothing Items for Every Season
One might wonder why building a capsule wardrobe is necessary. The truth is, having a collection of men's wardrobe essentials is not just a fashion statement; it's a practical choice. It simplifies decision-making and saves valuable time, allowing you to focus on more important tasks. Moreover, it helps you maintain a clutter-free closet, promoting a minimalist lifestyle. By investing in men's wardrobe ideas centered around men's essentials, you can adapt to any situation while maintaining a sense of style.
The Essential Wardrobe Items for Men
These are the backbone of a versatile wardrobe. Whether you're layering for winter or keeping it simple in summer, a few well-fitted full sleeve t-shirts are a must-have in any men's wardrobe.
Add a touch of personality to your collection with printed t-shirts. They can be the conversation starter you need at a casual event or the perfect choice for a relaxed day out.
a) Athleisure:
As the lines between fitness and fashion blur, athleisure has become a key component of menswear. Comfortable yet stylish, athleisure pieces are ideal for both workouts and everyday wear.
For chilly days or when you want to exude a casual vibe, hoodies are your best friends. A well-fitting hoodie is the perfect addition to your minimalist wardrobe for men.
Polo shirts bridge the gap between casual and semi-formal, making them versatile choices for various occasions. They are a must-have item in men's wardrobe.
When you need extra warmth without compromising style, sweatshirts come to the rescue. These are essential in regions with cold winters.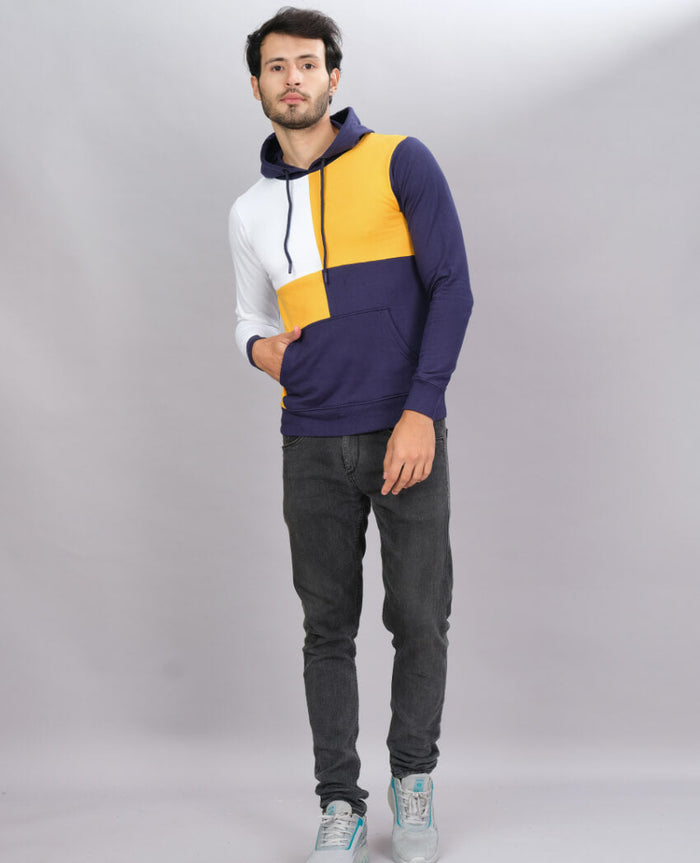 By including these items in your capsule wardrobe for men, you can easily mix and match to create numerous outfits without overcrowding your closet with unnecessary pieces. These wardrobe accessories are the foundation of any stylish menswear collection.
Zu Clothing: Your Destination for Men's Wardrobe Essentials
Now, you might be wondering where to find all these wardrobe essentials for men, including inclusive size-wear. Look no further than Zu Clothing. They understand the importance of catering to diverse body types and styles. Whether you're looking for men's wardrobe ideas or simply need to update your men wardrobe, Zu Clothing has got you covered. Their extensive range of men's essentials ensures that you'll always find what you need to build a functional and fashionable wardrobe.
Conclusion
In conclusion, embracing the concept of a capsule wardrobe for men is a smart move. It streamlines your daily routine, promotes minimalism, and ensures you always look your best. By incorporating wardrobe essentials for men like full sleeve t-shirts, printed t-shirts, athleisure, hoodies, polo t-shirts, and sweatshirts, you'll be well-prepared for any season or occasion. And when it comes to finding these men's wardrobe essentials, Zu Clothing offers a diverse selection, making it easier than ever to curate your perfect wardrobe. So, start building your ideal wardrobe today and elevate your style game to new heights.
Frequently Asked Questions
Q1: What are basic wardrobe essentials for men?
Ans1: Basic wardrobe essentials for men form the foundation of a versatile and timeless collection of clothing. These essentials include full sleeve t-shirts, printed t-shirts, athleisure wear, hoodies, polo t-shirts, sweatshirts, well-fitted jeans, chinos, classic dress shirts, a tailored suit, comfortable sneakers, leather dress shoes, a versatile belt, a quality watch, and neutral-colored socks and underwear. These items allow men to create various outfits suitable for different occasions, making it easier to look stylish and put-together every day.
Q2: How to build a wardrobe for an Indian man?
Ans 2: Building a wardrobe for an Indian man involves considering both traditional and modern clothing preferences. Here's a step-by-step guide:
a) Assess Your Lifestyle: Understand your daily activities, work requirements, and personal style preferences. This will help determine the types of clothing you need.
b) Start with Basics: Begin with wardrobe essentials such as full sleeve t-shirts, traditional Indian kurta pajamas, versatile shirts, and comfortable jeans.
c) Add Ethnic Wear: Incorporate ethnic wear like sherwanis, kurtas, and Nehru jackets for special occasions and cultural events.
d) Invest in Footwear: Acquire a mix of formal and casual footwear, including leather shoes, sandals, and sneakers.
e) Accessorize: Pay attention to accessories like belts, watches, and sunglasses to complete your outfits.
f) Tailored Clothing: Ensure that your formal wear, especially suits and blazers, are tailored to fit you perfectly.
g) Seasonal Considerations: Adapt your wardrobe to the Indian climate by including appropriate clothing for hot summers and colder winters.
h) Quality Over Quantity: Prioritize quality over quantity. Invest in well-made pieces that will last longer and maintain their style.
Q3: What is the most important accessory of a men's wardrobe?
Ans 3: The most important accessory in a men's wardrobe is often considered to be a high-quality and versatile watch. A watch not only serves the practical function of telling time but also adds a touch of sophistication and style to any outfit. It can be worn for both casual and formal occasions, making it an essential accessory that complements a man's overall look. Additionally, a well-chosen watch reflects the wearer's personality and attention to detail, making it a significant and timeless investment for any man's wardrobe.
Must Read : Men's Fashion Trends 2023 | Elevate Confidence with Colorful Attire
Leave a comment