How to Style Printed T-Shirts for Men: A Fashionable Guide
Welcome to our ultimate fashion guide on how to style printed t-shirts for men! Printed tees are a versatile and stylish addition to any man's wardrobe. Whether you're aiming for casual outfits or want to elevate your personal style, graphic tees offer a plethora of fashion trends and fashionable prints to choose from. In this fashion guide, we'll provide you with dressing tips and men's fashion insights to help you create eye-catching looks with printed t-shirts that reflect your individuality.
At Zu Clothing, we believe that fashion should be an extension of one's individuality. That's why our collection of printed t-shirts boasts a wide array of captivating designs, ranging from bold and eye-catching patterns to subtle and sophisticated graphics. With our ever-evolving selection, you'll always find the latest trends and timeless classics to suit your personal taste.
Embrace Casual Outfits with Printed T-Shirts:
Printed t-shirts effortlessly lend themselves to casual outfits. Pair your favorite graphic tees with jeans or chinos for a relaxed yet stylish look suitable for various occasions. Dress up your ensemble with a blazer for a semi-formal twist, ideal for dinner gatherings or a night out with friends.
What are some styling tips for wearing printed t-shirts in different seasons?
Spring:
Pair a floral printed t-shirt with pastel-colored bottoms or light-washed jeans for a fresh and vibrant look.
Layer the printed t-shirt with a lightweight cardigan or denim jacket for those slightly chilly spring days.
Choose breathable fabrics for printed t-shirts to stay comfortable in the rising temperatures.
Summer:
Opt for bold and colorful prints to match the vibrant spirit of summer.
Combine printed t-shirts with shorts, skirts, or lightweight linen pants for a casual and relaxed look.
Consider wearing sleeveless or tank-style printed t-shirts to beat the heat.
Accessorize with sunglasses, floppy hats, and sandals for a complete summer ensemble.
Fall:
Transition into fall by pairing your printed t-shirt with a cozy flannel shirt or a stylish bomber jacket.
Opt for earthy tones and autumn-themed prints for a season-appropriate look.
Combine printed t-shirts with jeans or corduroy pants for a comfortable and fashionable outfit.
Experiment with layering by adding scarves or vests to create a more textured look.
Winter:
Wear long-sleeved printed t-shirts under warm cardigans, sweaters, or jackets for added insulation.
Choose dark-colored prints or winter-themed designs to match the season's ambiance.
Layer the t-shirt with a coat or a parka for extra warmth when venturing outdoors.
Combine printed t-shirts with dark-colored jeans or trousers to create a balanced winter outfit.
What are some dos and don'ts when it comes to styling printed t-shirts?
Dressing Tips for a Polished Look:
When styling printed t-shirts, keep the rest of your outfit simple to let the designs stand out. Opt for solid-colored bottoms and avoid clashing patterns to maintain a balanced appearance. Additionally, consider the fit of your t-shirt for a polished look that complements your body shape.
Experiment with Fashion Trends:
Fashion trends come and go, and printed t-shirts are no exception. Stay on top of the latest men's fashion trends by choosing graphic tees with popular motifs, colors, and styles. From vintage-inspired prints to modern abstract designs, there's a fashionable print for every taste.
Incorporating Fashionable Prints:
Diversify your men's wardrobe with an array of fashionable prints. Explore options such as floral, geometric, animal motifs, and typography designs. Let your personality shine through by selecting prints that resonate with your personal style.
Elevate Your Men's Fashion Game:
Printed t-shirts are an excellent way to elevate your men's fashion game effortlessly. Whether you're going for a laid-back street style or a more refined look, graphic tees can be dressed up or down to suit any occasion.
Mix and Match:
Don't be afraid to mix and match printed t-shirts with other wardrobe essentials. Layer your graphic tees under open shirts or jackets for a stylish, multi-dimensional outfit. Experiment with different combinations to find what suits your personal style best.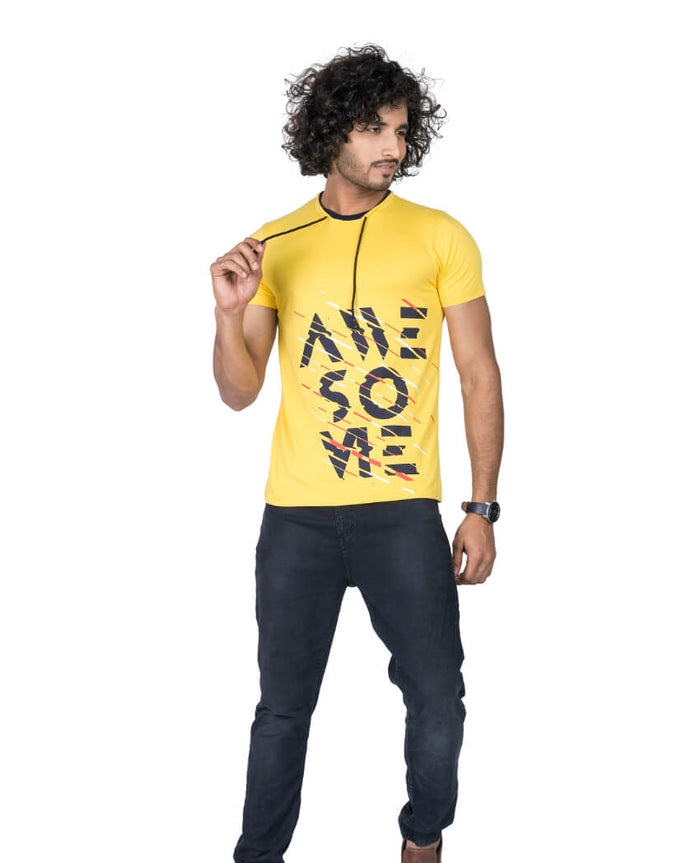 Versatility is the essence of Zu Clothing's printed t-shirts. Mix and match them with your favorite jeans, chinos, or shorts to create countless stylish looks. Dress up for a casual date night or dress down for a relaxed weekend outing – the possibilities are endless. Embrace your creativity and let your personality shine through!
Show Off Your Personal Style:
Personal style is all about expressing who you are through your clothing choices. With printed t-shirts, you have a canvas to showcase your unique tastes and interests. Choose designs that align with your passions, whether it's music, art, sports, or pop culture.
Versatility of Printed T-Shirts:
Printed t-shirts offer unparalleled versatility. Dress them down with shorts and sneakers for a day at the beach or dress them up with tailored trousers and loafers for a more sophisticated look. The possibilities are endless.
Conclusion:
In conclusion, printed t-shirts are a must-have in every man's wardrobe due to their versatility and the opportunity they provide to express personal style. By following these dressing tips and staying updated with fashion trends, you can create a multitude of casual outfits that are both comfortable and fashion-forward
For men seeking trendy printed t-shirts that prioritize comfort, size inclusivity, and diverse styling options, Zu Clothizng is the ultimate destination. Express yourself with confidence and elevate your wardrobe with our carefully curated collection. Discover a new level of fashion freedom with Zu Clothing today
Dos:
Do choose prints that reflect your personality and match the occasion.
Do experiment with different combinations of printed t-shirts and solid-colored bottoms.
Do accessorize thoughtfully to enhance the overall outfit while keeping the focus on the printed tee.
Do pay attention to the fit of the t-shirt; make sure it complements your body shape.
Do consider tucking in the t-shirt or tying a knot at the waist to add some variation to your look.
Don'ts:
Don't overcrowd the outfit with too many competing prints. Keep it balanced and avoid overwhelming patterns.
Don't wear a printed t-shirt with wrinkled or shabby-looking bottoms. Ensure that your entire outfit looks polished.
Don't hesitate to mix and match different styles, but avoid combining conflicting themes or aesthetics.
Don't wear a printed t-shirt to a formal or black-tie event, as it's generally considered too casual.
Don't forget to check the weather before choosing a printed t-shirt to ensure it's appropriate for the conditions.
Remember, fashion is a form of self-expression, so have fun experimenting with different prints and styles to find what suits you best!
Leave a comment