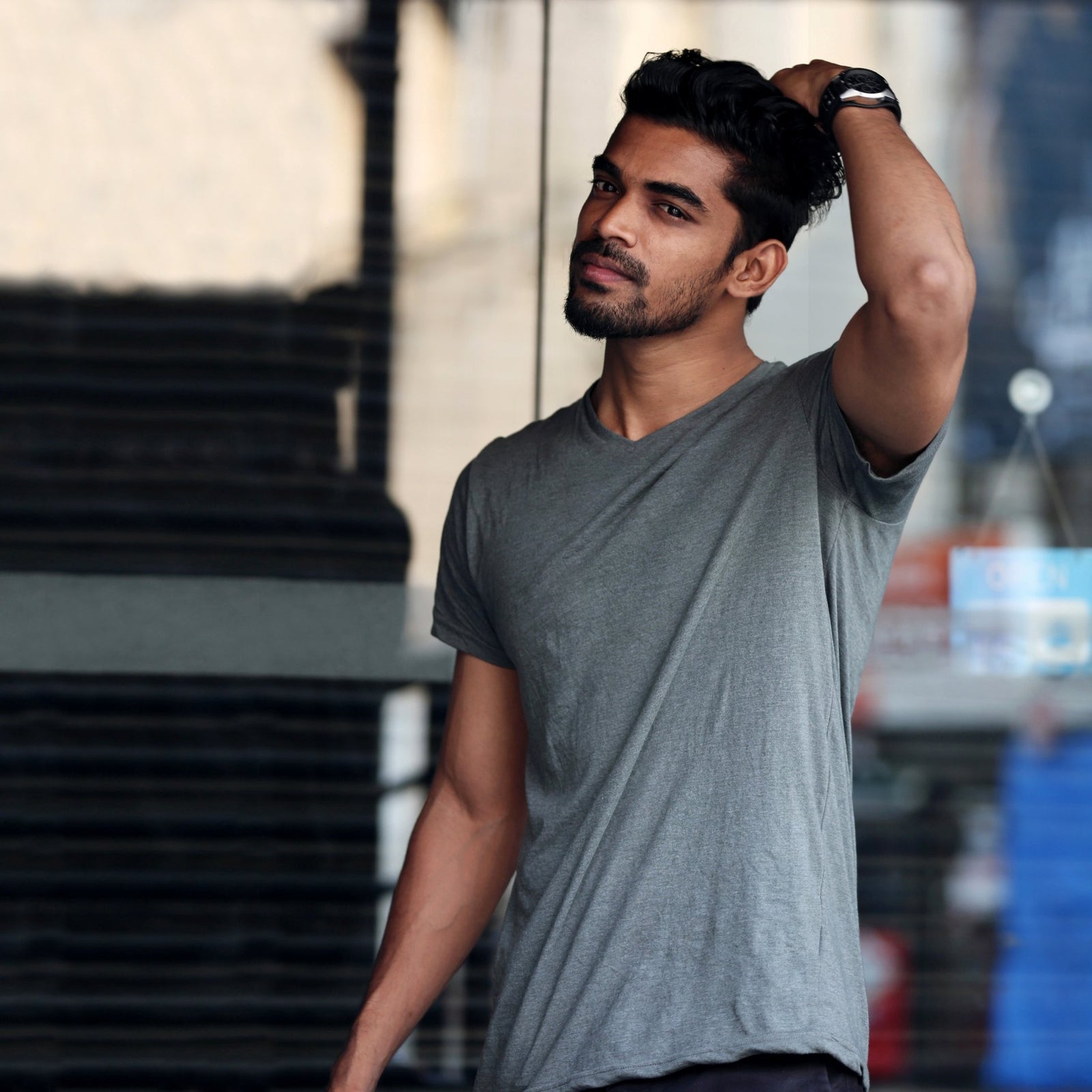 Solids
The charm of solid colour or plain T-shirts is hard to resist. There is something about their style that just pulls you in. Plus, they are versatile, comfortable, quirky, and have endless options when it comes to styling them. Solid t-shirts men go well with track pants, shorts, joggers, pants, jeans, and even trousers and suits. Gone are the days when t-shirts were only for casual occasions. Now, solid t-shirts can be worn for all events providing a medium to express your style. 
You can select and style a solid t-shirt according to the season and occasion. This means the t-shirt can be used to create entirely different looks depending on the scenario and weather. Plus, solid t-shirts always come to the rescue when you have a wardrobe crisis. If you want something to sober down the cheerfulness of a bright-colored jacket, then wear a solid subtle colored t-shirt underneath. In the mood to channel a cool casual vibe, then a solid-colored polo t-shirt will do the trick.  
Color is the soul of apparel, especially solid or plain t-shirts. If you are the one who owns a pair of solid white t-shirts and plain black t-shirt, then it is time that you revamp your collection of men's solid color t-shirts with more shades from Zulements. We stock a wide range of solids in various colors and styles to oomph up your style statement. Whether you are looking for a V-neck, crew-neck, polo, full-sleeves, or half, we have them all at a reasonable price range. 
We always strive to offer customer satisfaction and make online shopping much better. The solid t-shirts men we sell are made of 100% cotton, bio-washed, and preshrunk. The colors do not bleed and the t-shirt lasts many years if you follow the wash care instructions. Zulements provide a range of high-quality solid t-shirts for men online. Stock up your wardrobe with our range today. 
Why choose Zulements to buy men's T-shirts? 
There are numerous for choosing us for the perfect men's T-shirts. Our brand makes distinctive and smart fashionable outfits for men. You can choose from a men's solid-colored T-shirt or a printed one, we have the best of all. One of the most essential keys to our success is communication and smooth services.  The factor that keeps us different from others is our price structure, we provide t-shirts for men at the most affordable prices than any other site.  We bring the product of your choice, according to your request in no time. You don't have to wait a lot for our new launches. Keep yourself up to date with Zulements. So, when you buy your next t-shirt, don't forget us. We have all types of t-shirts from basic to bold. Despite this, we are a passionate team of independent creators who are constantly on the lookout for the next big trend and create designs that inspire the next generation of bellwethers.